About IIC
Institution Innovation Council (IIC-MSAJCE) had been constituted in our college as per the guidelines of the Ministry of Human Resource Development Innovation Cell (MIC)
Introduction
Ministry of Human Resource Development (MHRD), Govt. of India has established 'MHRD's Innovation Cell (MIC)' to systematically foster the culture of Innovation amongst all Higher Education Institutions (HEIs). The primary mandate of MIC is to encourage, inspire and nurture young students by supporting them to work with new ideas and transform them into prototypes while they are informative years.

MIC has envisioned encouraging creation of 'Institution's Innovation Council (IICs)' across selected HEIs. A network of these IICs will be established to promote innovation in the Institution through multitudinous modes leading to an innovation promotion eco-system in the campuses.

Major focus of IIC
To create a vibrant local innovation ecosystem. Start-up supporting Mechanism in HEIs. Prepare institute for Atal Ranking of Institutions on Innovation Achievements Framework. establish Function at Ecosystem for Scouting Ideas and Pre-incubation of Ideas. Develop better Cognitive Ability for Technology Students.

Functions of IICs
To conduct various innovation and entrepreneurship-related activities prescribed by ministry of Education's Innovation cell as and when announced by it.
| | |
| --- | --- |
| | Identify and reward innovations and share success stories |
| | Organize periodic workshops/ seminars/ interactions with entrepreneurs, investors, professionals and create a mentor pool for student innovators |
| | Network with peers and national entrepreneurship development organizations |
| | Create an Institution's Innovation portal to highlight innovative projects carried out by institution's faculty and students |
| | Organize Hackathons, idea competition, mini-challenges etc. with the involvement of industries |
Vision
To be a centre of excellence for transforming students into proficient Electrical and Electronics Engineers through sustainable practices.
Mission
M1. Impart core fundamental knowledge and necessary skills in Electrical and Electronics Engineering through innovative teaching and learning methodology
M2. Inculcate critical thinking, ethics, lifelong learning and creativity needed for industry and society
M3. Cultivate the students with all-round competencies, for career, higher education and self-employability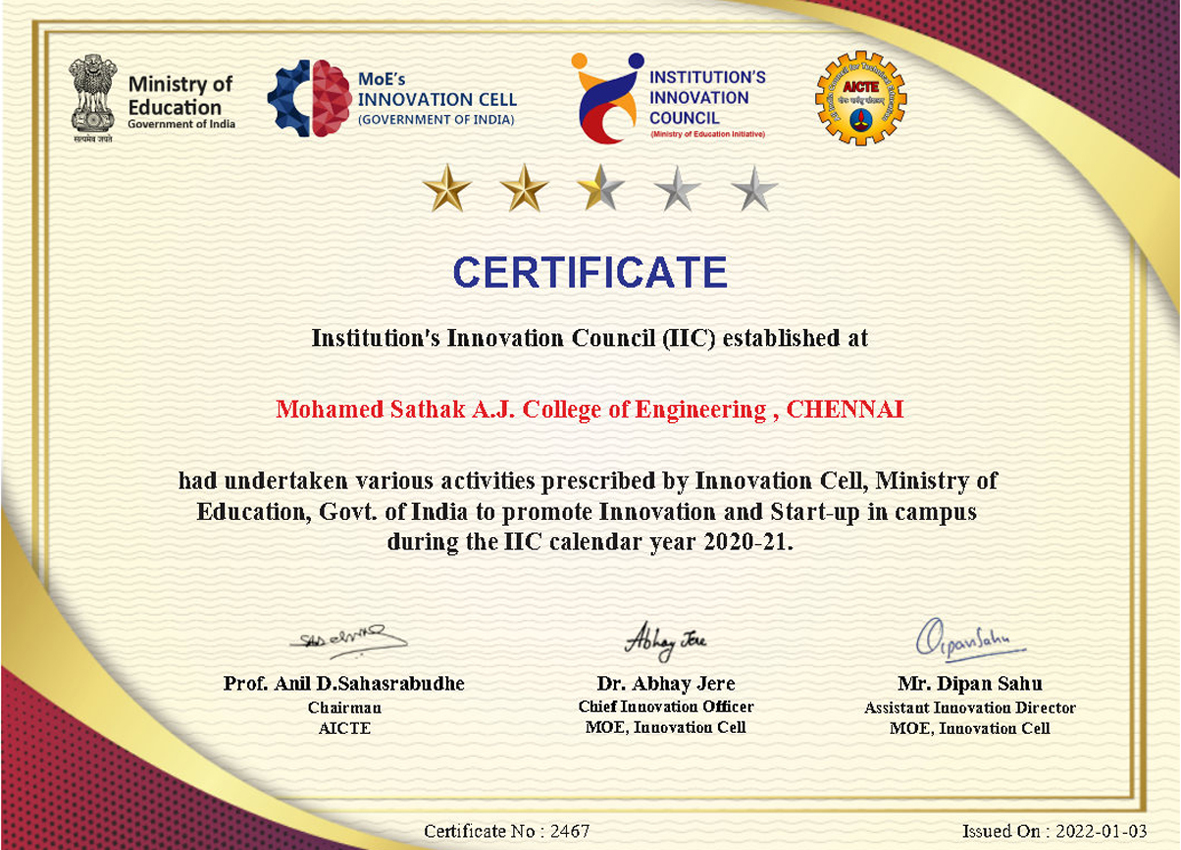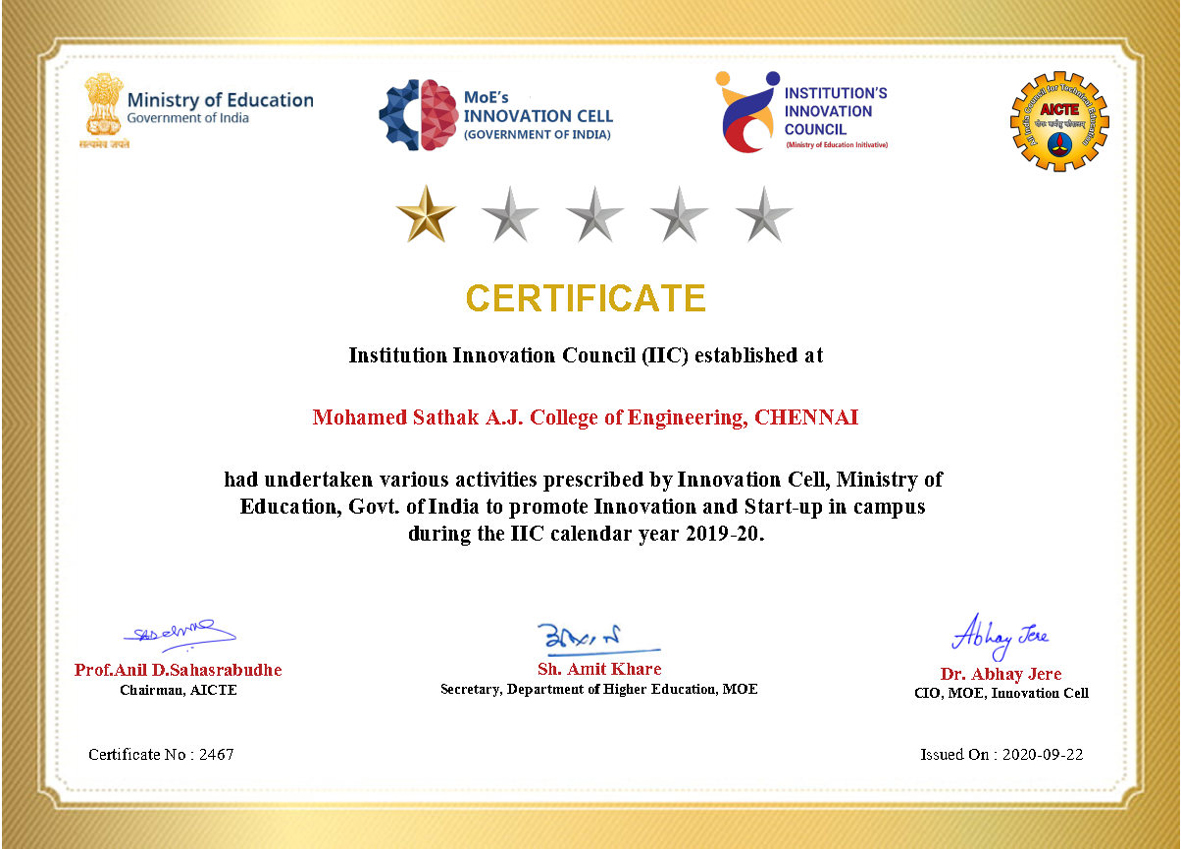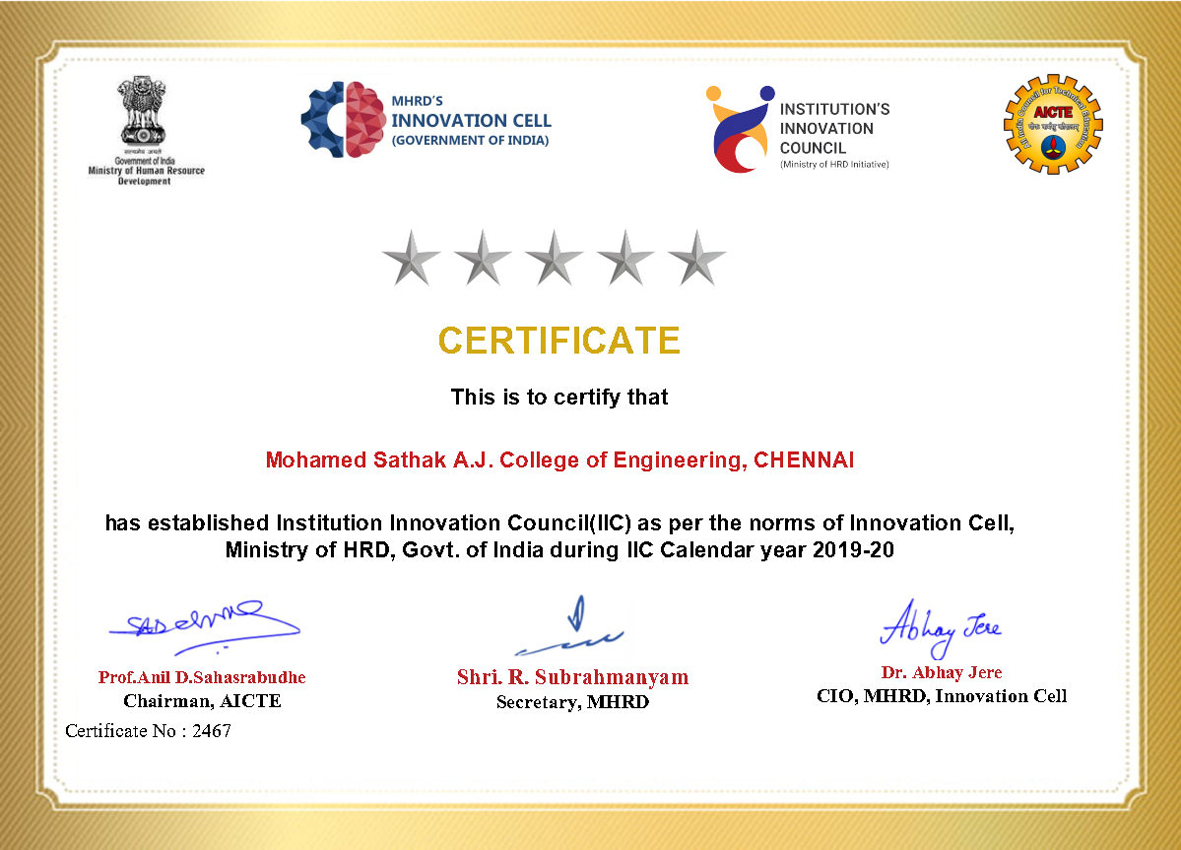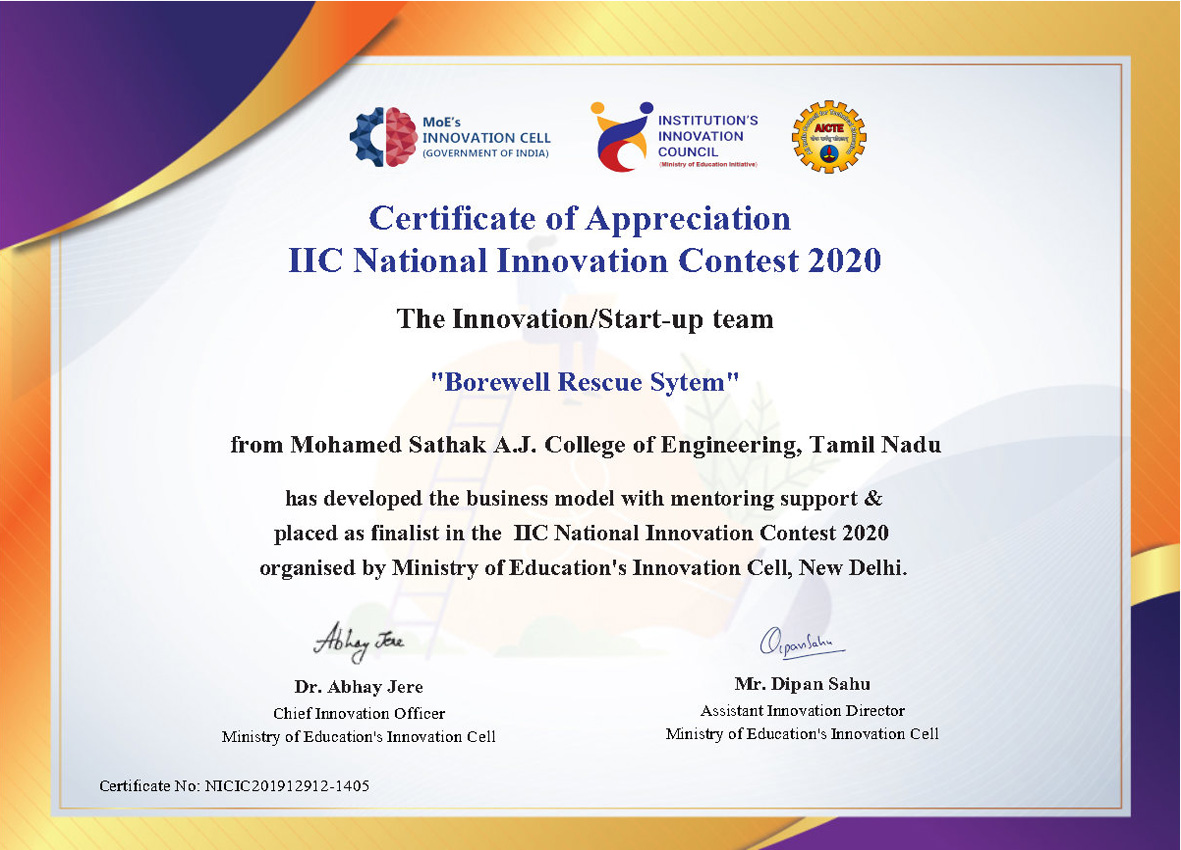 IIC Contact
Head of the Institution
Dr. K.S. Srinivasan
Principal
Mohamed Sathak A.J. College of Engineering
Chennai- 603103
Email: principal@msajce-edu.in
President
Dr. D. Weslin
Associate Professor
Head Research & IPR
Mohamed Sathak A.J. College of Engineering
Chennai- 603103
Email: iic.head@msajce-edu.in
Vice President
Dr.I. Manju
Professor and Head
Department of Electrical and Electronics Engineering
Mohamed Sathak A.J. College of Engineering
Chennai- 603103
Email: headir@msajce-edu.in
IIC Office Bearers
Name
Designation
President
Dr. D. Weslin
Head- Research & IPR
Vice President
Mr. Venkatakrishnan Sankaran
Levergent Technologies
Convenor
Dr. Vigneshkumar M
Coordinators
1. Dr. I. Manju
2. Dr. G. Ramesh
3. Mr.V.Vigneshwaran
4. Dr. Kamalaselvan
Head/ IQAC
Startup Coordinator
Internship Coordinator
IPR Coordinator
Innovation Ambassadors
1. Dr. I.Manju
2. Dr. B.Janarthanan
3. Dr. G.Ramesh
4. Mr. V.Vigneshwaran
5. Mr. Chintala Venkatesh
6. Mr. M.Kamarajan
7. Mrs. E.Jayanthi
8. Dr. B.Devibala
9. Dr. A.Bala Krishnan
10. Dr. R.Someswaran
11. Dr. R.Elliss Yogesh
12. Mr. L.Tharanikumar
13. Mr. D.Sakthivel
Professor/Department of ECE
Professor/Department of MECH
ASP/Department of MECH
V, Head-Placement, AP/ Department of MECH
AP/ Department of EEE
AP/ Department of ECE
AP/ Department of ECE
AP/ Department of S&H
AP/ Department of S&H
AP/ Department of CIVIL
AP/ Department of CIVIL
AP/ Department of MECH
AP/ Department of MECH
Events
S.No
Name of the Activity
Date
No. of. Beneficiary
Department Association
Offline / Online
Report
1
Poster Presentation Competition
30.08.2023
40 Students
02 Faculties
EEE
Offline
View
2
Achieving Value "preposition Fit and Business fit
24.08.2023
60 Students
04 Faculties
MECH
Offline
View
3
Innovation and Stat up Ecosystem Enablers From the region level
24.08.2023
40 Students
02 Faculties
PT, EDC * IIC
Offline
View
4
Lean Start up & Minimum Viable Product/Business
23.08.2023
110 Students
05 Faculties
CSE
Offline
View
5
Innovations and Entrepreneurship Outreach Program in Schools/Community
17.08.2023
90 Students

CIVIL
Offline
View
6
Independence Day
15.08.2023
50 Students
20 Faculties
PED
Offline
View
7
Angel investments and VC Funding Opportunity for Early Stage Entrepreneurs
09.08.2023
60 Students
02 Faculties
ECE
Online
View
8
Online Sessions On Acceleration –Early Stage Entrepreneurs
02.08.2023
Around 150 Students
and Faculties
IT
Online
View
9
Workshop on Intellectual Property Rights (IPRS) and IP management for start up
29.05.2023
38 Students
17 Faculties
CIVIL
Online
View
10
Session/ Workshop on Business Model Canvas (BMC)
12.04.2023
60 Students
05 Faculties
ECE
Online
View
11
Session on 'How to plan for Start-up and legal & Ethical Steps'
30.03.2023
150 Students
10 Faculties
MECH
Online
View
12
Women's day celebration
10.03.2023
200 Students
25 Faculties
WDC
Online
View
13
Inter/intra institutional innovation competition/challenge/ hackathon and reward best innovations - manage through yukti-nir
27.02.2023
40 Students
05 Faculties
ECE
Online & Offline
View
14
Organize an Expert talk on Process of Innovation Development, Technology Readiness Level (TRL), Commercialisation of Lab Technologies & tech-Transfer.
27.02.2023
90 Students
10 Faculties
ECE
Online
View
15
Mentoring Event: Demo Day/Exhibition/Poster presentation of Innovations/Photo types & linkage with Innovation Ambassadors/Expert for Mentorship Support – Manage through YUKTI-NIR
24.02.2023
45 Students
08 Faculties
CIVIL
Offline
View
16
Workshop on Design Thinking, Critical thinking and innovation Design
21.02.2023
60 Students
12 Faculties
MECH
Online
View
17
Organizing Innovation and Entrepreneurship outreach program in Schools/Community
15.02.2023
90 Students
02 Faculties
IT
Offline
View
18
Field/Exposure Visit to Pre-incubation units such as Ideas Lab, Fab lab, Makesr Space, Design centres, City MSME clusters, workshops etc.
10.02.2023
60 Students
06 Faculties
P&T
Offline
View
19
KAPILA Kalam program for IP Literacy & Awareness
04.02.2023
218 Students
15 Faculties
IIC
Offline
View
20
Workshop on Entrepreneurship skill, Attitude and Behaviour Development
12.01.2023
43 Students
07 Faculties
EEE
Offline
View
21
Workshop on "Entrepreneurship and Innovation as Career Opportunity"
28.11.2022
(AN)
300 Students
18 Faculties
IT
Offline
View
22
National Educational Policy
28.11.2022
(FN)
250 Students
10 Faculties
S&H
Offline
View
23
Inter/intra institutional idea competition/challenge/hackathon and reward best ideas - manage through yukti-nir
19.11.2022
25 Students
05 Faculties
EEE
Offline
View
24
Personality Development and Business Etiquette
19.11.2022
60 Students
20 Faculties
WDc
Offline
View
The Indian Society of Heating, Refrigerating and Air Conditioning Engineers (ISHRAE)
The Indian Society of Heating, Refrigerating and Air Conditioning Engineers (ISHRAE), was founded in 1981 at New Delhi by a group of eminent HVAC&R professionals. ISHRAE operates from 41 Chapters and sub Chapters spread all over India, with HQ in Delhi. ISHRAE works in the National interest with various Govt. Ministries/Departments, e.g. in the development of Standards & drafting of NBC for BIS, working on ECBC with BEE, with Ozone cell of MoEFCC, on refrigerant gases. ISHRAE is a member & active supporter of National Centre for Cold Chain development (NCCD). Ministry of Agriculture works closely with NCCD on refrigeration. ISHRAE is also working in close co-operation with other similar Societies & organizations, both at national and international level, for the promotion and development of issues like Sustainability, Green Buildings, Energy Efficiency, Environmental Responsibility, Indoor Air Quality, Fire& Safety. ISHRAE is looked upon as a repository of technical knowledge in the HVAC&R and Building Industry field by peer Organizations & the Govt. of India.
ISHRAE objectives includes, advancement of the Arts and Sciences of Heating, Ventilation, Air Conditioning and Refrigeration Engineering and related services, Continuing education of members and other interested persons in the said sciences through Lectures, Workshops, Product Presentations, Publications and Expositions, Rendition of career guidance and financial assistance to the students of the above said sciences and encouragement of scientific research. As part of its objectives to promote the interests of the HVAC&R industry, ISHRAE is involved in various activities. ISHRAE reaches out to all its members and seeks their active participation & involvement in all the Events/Programs organizedby the society.
The activities of the student branch are listed as below
| | |
| --- | --- |
| | Provides excellent networking opportunities to interact with other Professionals, Industry Leaders and key decisions makers in the Profession and Industry |
| | Provides an excellent forum for professional development and continuous training & Re-training on both fundamentals and latest products & technologies available worldwide |
| | Easy access to all ISHRAE Technical Publications, Software, Workshops, Conferences and Training Programs |
| | Opportunity to work in the Chapter Working Committee & Headquarter activities towards our mission to promote the arts and sciences of HVAC&R in India |
| | Provides a platform for effective marketing and launching of new products and technologies through exhibitions, product presentations and advertisements |
| | Provides an International exposure through International Associates |
---