Sathak Innovation and Incubation Foundation
The main objects to be pursued by the company upon its incorporationare:
| | |
| --- | --- |
| a) | To promote commerce, science, education and research by helping, establishing and incubating startups, individuals, teams with innovative ideas to make prototypes and to convert them into Products. |
| b) | To promote a culture of innovation driven entrepreneurship in the fields of science, engineering, technology, commerce, agriculture, health care, medicine, pharmacy, education, arts, sports and other various fields. |
| c) | To establish, help establish and or manage infrastructure, laboratories, to make and test prototypes/products, pilot plant production facilities, software development facilities, training and human resource development centre, propogate new scientific and technologies development and innovation from idea stage to full scale commercial production or any part of this chain. For the above purposes to assist, co- operate or collaborates with any establishment, laboratory, technology business incubators centre, organisation or institution in India or abroad. |
National Innovation and Startup Policy
Entrepreneurship Development Cell
Innovation Cell Activities
About the council
Institution Innovation Council (IIC-MSAJCE) had been constituted in our college as per the guidelines of the Ministry of Human Resource Development Innovation Cell (MIC)
Introduction
Ministry of Human Resource Development (MHRD), Govt. of India has established 'MHRD's Innovation Cell (MIC)' to systematically foster the culture of Innovation amongst all Higher Education Institutions (HEIs). The primary mandate of MIC is to encourage, inspire and nurture young students by supporting them to work with new ideas and transform them into prototypes while they are informative years.

MIC has envisioned encouraging creation of 'Institution's Innovation Council (IICs)' across selected HEIs. A network of these IICs will be established to promote innovation in the Institution through multitudinous modes leading to an innovation promotion eco-system in the campuses.

Major focus of IIC
To create a vibrant local innovation ecosystem. Start-up supporting Mechanism in HEIs. Prepare institute for Atal Ranking of Institutions on Innovation Achievements Framework. establish Function at Ecosystem for Scouting Ideas and Pre-incubation of Ideas. Develop better Cognitive Ability for Technology Students.

Functions of IICs
To conduct various innovation and entrepreneurship-related activities prescribed by ministry of Education's Innovation cell as and when announced by it.
| | |
| --- | --- |
| | Identify and reward innovations and share success stories |
| | Organize periodic workshops/ seminars/ interactions with entrepreneurs, investors, professionals and create a mentor pool for student innovators |
| | Network with peers and national entrepreneurship development organizations |
| | Create an Institution's Innovation portal to highlight innovative projects carried out by institution's faculty and students |
| | Organize Hackathons, idea competition, mini-challenges etc. with the involvement of industries |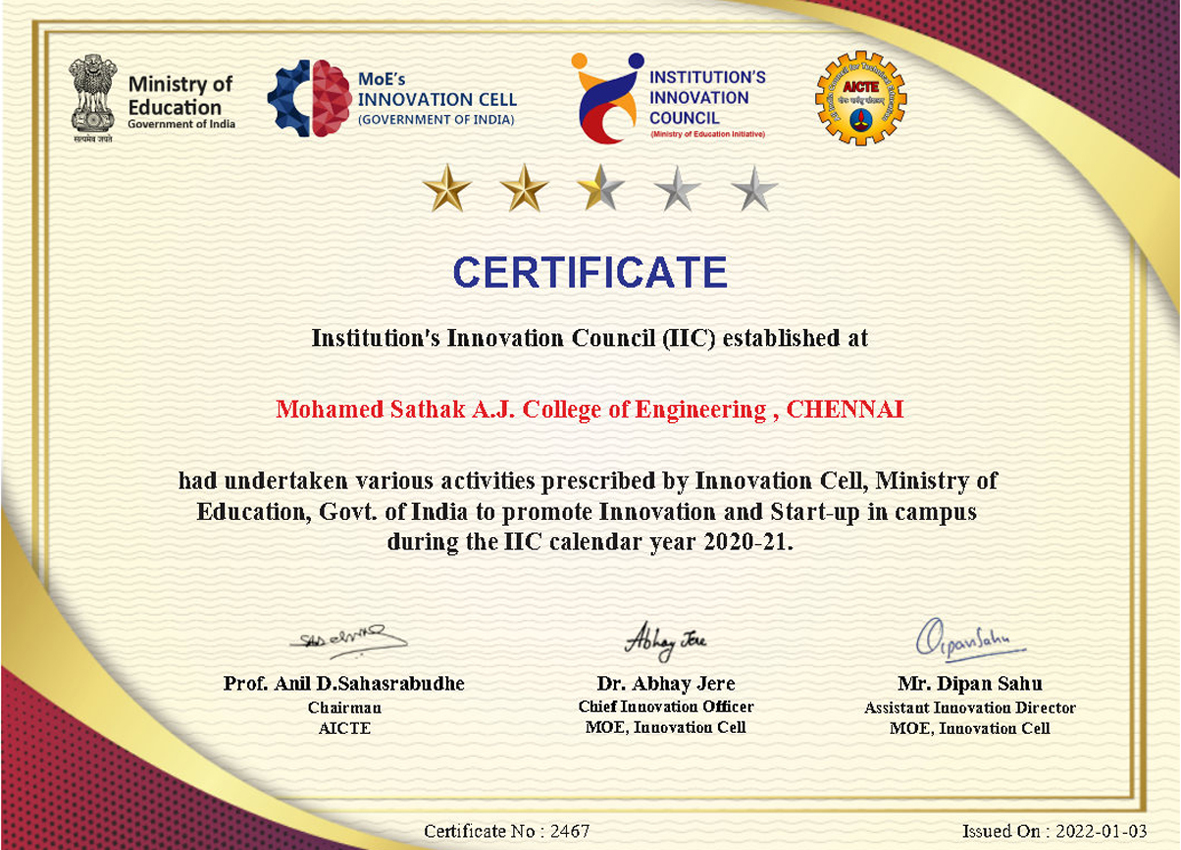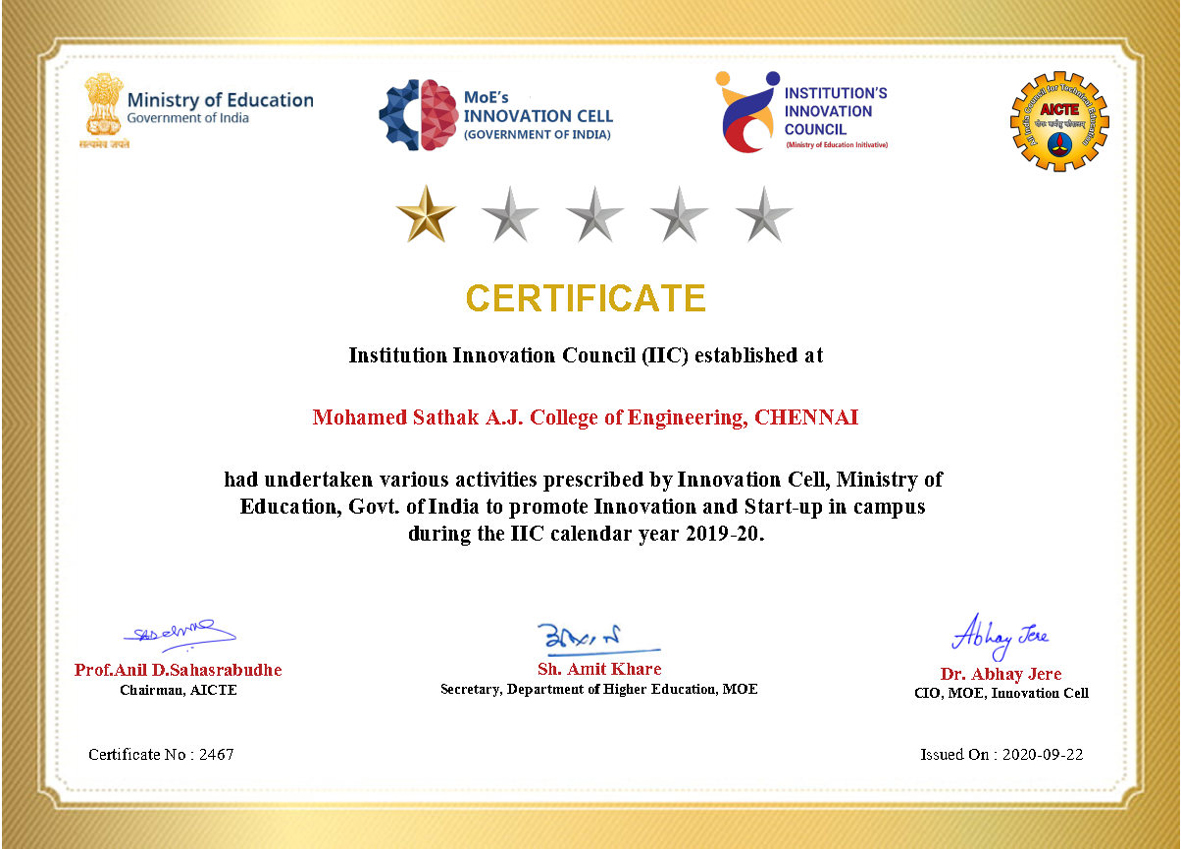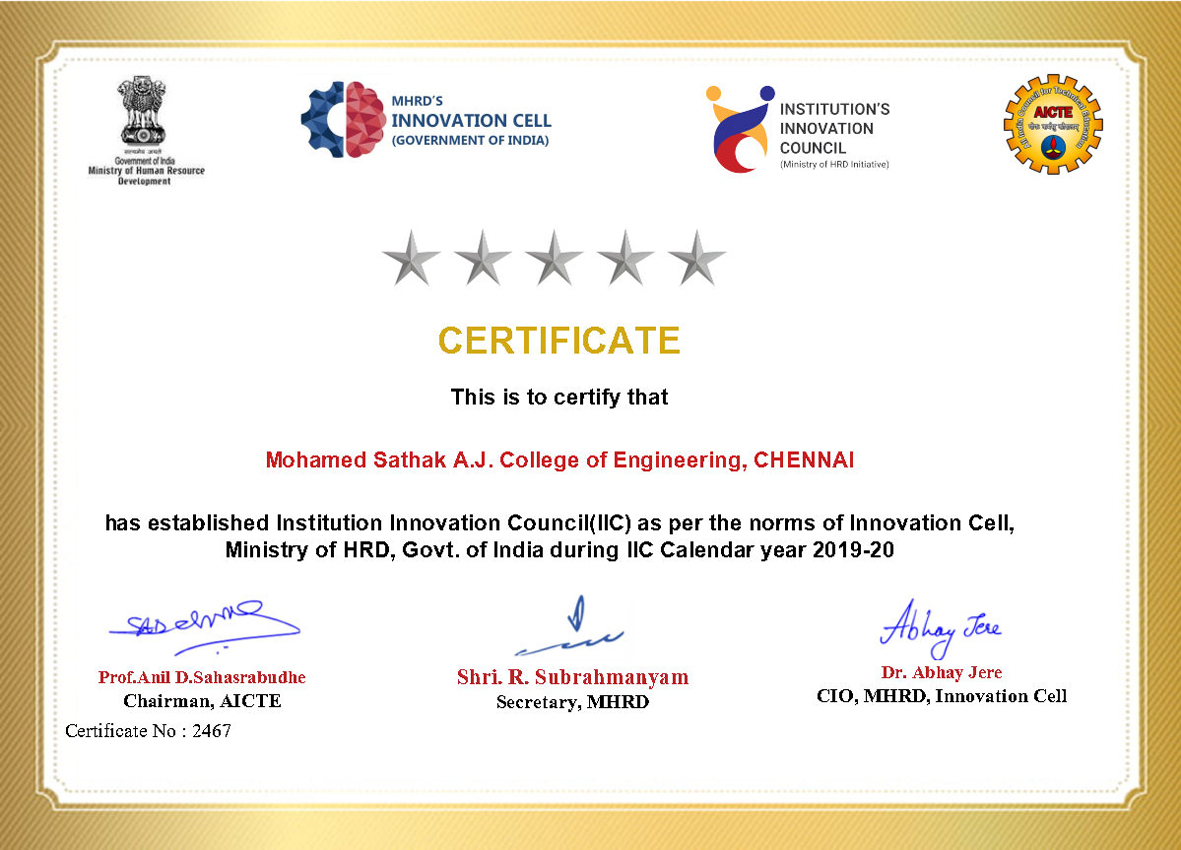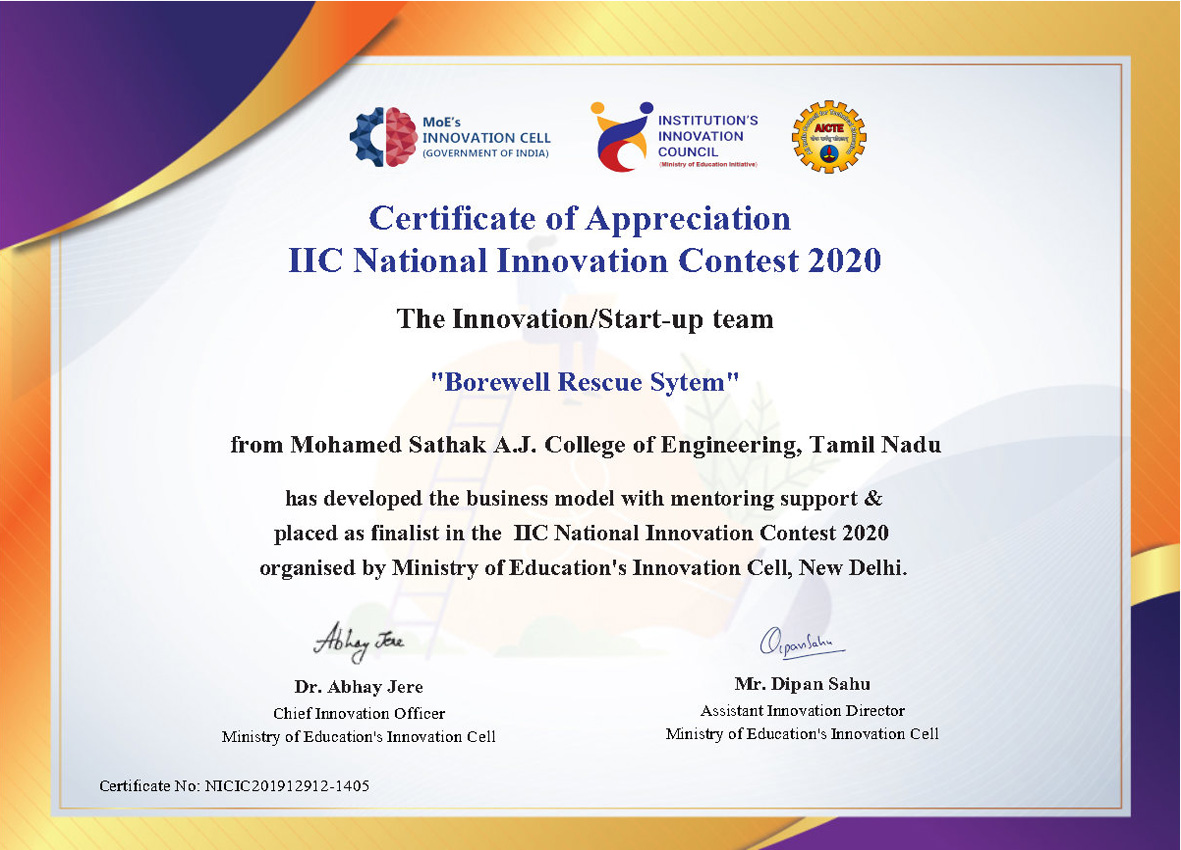 | | | |
| --- | --- | --- |
| 1 | Dr. K. S. Srinivasan, Principal | Head of the Institution |
| 2 | Dr. R. Senthamizhselvi, Associate Professor, MSAJCE | President |
| 3 | Dr. I. Manju, Professor, MSAJCE | Vice President |
| 4 | Dr.M. Kanthababu, Professor, Anna University | External Member |
| 5 | Dr. N. Alagumurthi, Professor, Pondichery Engineering College | External Member |
| 6 | Mr. N. S. Srinivasan, DGM, L & T Infrastructure Development Projects Ltd | External Member |
| 7 | Venkatakrishnan sankaran, Vice-President, Levergent Technologies | External Member |
| 8 | Mr D Gowri Shankar, Asst.Professor, New Prince Shri Bhanavani College of Engineering | External Member from Mentor Institute |
| 9 | Dr.M.Sivakumar, Associate Professor | Member |
S.No.
Name of the Event
Type of Activity
1
Design of Flexible Pavement using IRC
Self-Driven Activity
2
Computer Architecture
Self-Driven Activity
3
Virtual Workshop on Machine Learning
Self-Driven Activity
4
Online Workshop on Programming Skills
Self-Driven Activity
5
Technological Innovation and Academia Industry Collaboration under Self-Reliant India
Self-Driven Activity
6
FDP on Kinematics if Machinery
Self-Driven Activity
7
FDP on Teaching Engineering Graphics using ICT Tools
Self-Driven Activity
8
Virtual Workshop on Research Methodologies
Self-Driven Activity
9
Basic Refrigeration and Airconditioning
Self-Driven Activity
10
Converting Ideas to Entrepreneurship
Self-Driven Activity
11
National Webinar on Research, Innovation and Ranking/td>
MIC Driven Activity
12
Orientation session for all students & faculties of Institute by Innovation Ambassador(s).
IIC Calendar Activity
13
Session on "How to plan for Start-up and legal & amp; Ethical Steps"
IIC Calendar Activity
14
IIC Council Meeting- Review of Q2 progress and Planning of Q3
IIC Calendar Activity
15
IIC Annual Report
MIC Driven Activity
16
Concrete Technology
Self-Driven Activity
17
National Level Awareness Programme on Entrepreneurship
Self-Driven Activity
18
Workshop on Design Thinking, Critical thinking and Innovation Design
IIC Calendar Activity
19
AKAM
MIC Driven Activity
20
Workshop on "Entrepreneurship and Innovation as Career Opportunity"
IIC Calendar Activity
21
Orientation Session on IIC4.0 & Features
MIC Driven Activity
22
Awareness Programme on IPR
Self-Driven Activity
23
Session on Problem Solving and Ideation Workshop
IIC Calendar Activity
24
Workshop on Entrepreneurship Skill, Attitude and Behaviour Development
IIC Calendar Activity
25
Alumni Talk and Interaction
Self-Driven Activity
26
Internal Hackathon to select team for SIH-2022
Self-Driven Activity
27
Seminar on Cyber Secutiry - Trends and Hygiene
IIC Calendar Activity
28
Seminar on National Educational Policy
IIC Calendar Activity
29
Ideathon Students Competition
IIC Calendar Activity
Head of the Institution
Dr. K.S. Srinivasan
Principal
Mohamed Sathak A.J. College of Engineering
Chennai- 603103
Email: principal@msajce-edu.in
President
Dr. R. Senthamizhselvi
Associate Professor
Department of Science and Humanities (Chemistry)
Mohamed Sathak A.J. College of Engineering
Chennai- 603103
Email: sh.senthamizhselvi@msajce-edu.in
Vice President
Dr.I. Manju
Professor and Head
Department of Electrical and Electronics Engineering
Mohamed Sathak A.J. College of Engineering
Chennai- 603103
Email: headir@msajce-edu.in
Academic Toppers
S.No.
Name of the Student
Year
Department Of Civil Engineering
1
Mohamed Jassim .M
II
2
Veera Kumar .M
III
3
Mohmood Naina .M.H
IV
Department of Mechanical Engineering
4
Salman
II
5
Atef Jamaludeen .N
III
6
Mohamed Nibras .M
IV
Department of Computer Science and Engineering
7
Vinitha .M
II
8
Bhuvaneshwari .B
III
9
Mahalakshmi .R
IV
Department of Information Technology
10
Shalini .M
II
11
Ganga .M
III
12
Fouzia .M.A
IV
Department of Electronics and Communication Engineering
13
Satheshkumar .V
II
14
Assifa .A
III
15
Vigneshwaran .V
IV
Department of Electrical and Electronics Engineering
16
Divyasri .S
II
17
Sathyan .S
III
18
Sanjith .S
IV
---